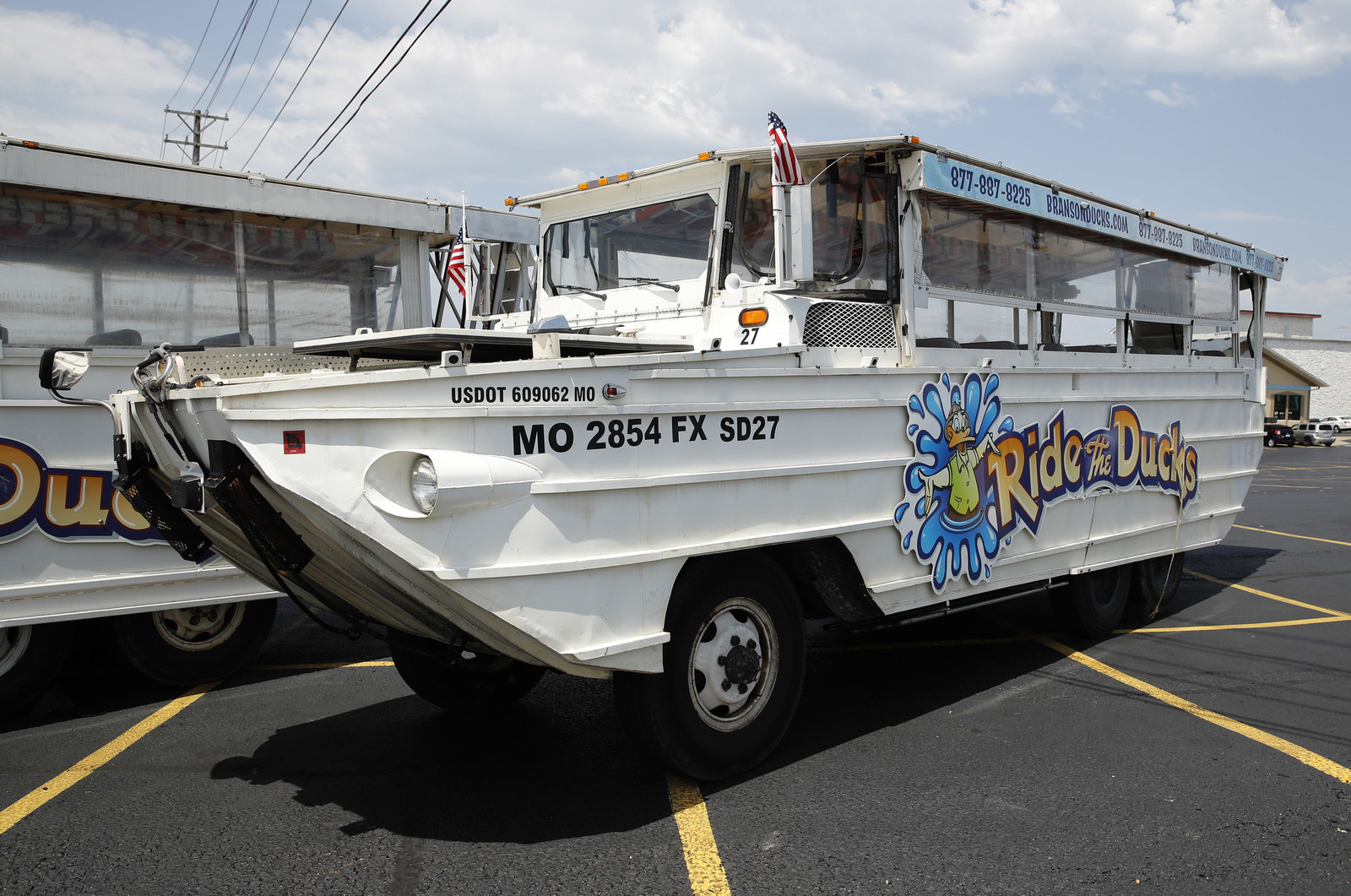 Photo by Charlie Riedel / AP
The owner of the tourist duck boat that sank Thursday evening, leaving 17 people dead and seven others injured, spoke in disbelief Friday.
"This business has been operating for 47 years, and we've never had an incident like this, or anything close to it," said Jim Pattison Jr., president of Ripley Entertainment, which owns Ride the Ducks in Branson, Missouri.
The scale of Thursday's tragedy was unprecedented. But over the last decades, 24 other people have died in incidents around the country involving the amphibious craft, originally designed to be troop transports in WWII.
Attorney Andrew Duffy told BuzzFeed News he hoped to never again receive a call about a duck boat tragedy following a 2010 crash on the Delaware River that left two tourists dead. Duffy and his Philadelphia-based firm secured a $17 million settlement for victims' families after the incident.
"The duck boats are death traps," he said.
The Miss Majestic
National Transportation Safety Board
That sentiment isn't far from the conclusion of the National Transportation Safety Board almost two decades ago, as it investigated the 1999 sinking of the Miss Majestic in Arkansas. Of the 21 people on board, 13 died. The NTSB found problems with the maintenance of that particular duck boat, but it also identified flaws common to all of the vehicles: Once the craft took on water, they sank too easily. And as they sank, shade canopies — fixed steel and vinyl roofs — pulled passengers down as they tried to escape through side windows. Even life vests wouldn't solve the problem; passengers would only float upward and find themselves trapped against either the canopy or a capsized hull.
"In the Safety Board's opinion, canopies present major safety risks that need to be addressed, especially in light of the fact that amphibious passenger vehicles in service in this country carry more than 1 million passengers each year, including a great many children," a 2002 NTSB report said.
The federal agency contacted duck boat operators around the country, calling for retrofits and the removal of canopies that didn't allow passengers to more easily get out. The report notes that Ride the Ducks in Missouri said it was working on an aluminum duck boat prototype that would address the design issues pointed out by the NTSB.
Photos show that the Branson ducks had windows below their canopy larger that those on the doomed Miss Majestic. The company's website notes that though its vehicles are based on the WWII transports, they've been brought up to "the latest in safety standards." One survivor told a local CBS affiliate on Friday they'd been instructed by the boat captain not to put on life vests because they wouldn't need them.
But those safety changes don't appear to have gone far enough.
"I am convinced that if there was no canopy on this duck boat, that we would not see the large loss of life that we just saw last night," he said.
Weather conditions on Thursday tested the design of the boats. Table Rock Lake had been placid earlier in the day, and other duck boat tours had no issues. But by 7 p.m., winds of more than 63 mph ripped across the region, with waves reported at up to 5 feet.
"It was a fast-moving storm, came out of basically nowhere," Pattison told CBS.
And though he said people on the lake didn't expect it, the tour should have been canceled.
"It shouldn't have been in the water, if what happened happened," he said.
After the sinking of the Miss Majestic in 1999, the US Coast Guard standardized its guidelines for inspecting and certifying duck boats. It recommended local Coast Guard inspectors tell boat companies to stay off the water if winds exceeded 28 mph and/or if waves were higher than one foot.
Monitoring the weather is a regular part of operations for duck boat companies, according to a statement by Boston Duck Tours. The company said it follows the Coast Guard guidelines and observes weather conditions at each of the three departure points of its tours.
"The incident is currently under investigation, so it would not be prudent for us to comment or speculate as to what may have caused the incident, but extreme weather seems to have been a major factor," a company spokesman said in a statement.
On Thursday, extreme weather was reported across several states in the southeast US. The National Weather Service had tracked the storm for several hours and sent out warnings throughout the day, and radar showed a long-track storm system speeding through the region in a straight line.
A severe thunderstorm watch was issued for southwestern Missouri midday Thursday and was later upgraded to a warning for Stone County until 7:30 p.m. local time.
National Weather Service: Severe Tstorm@NWSSevereTstorm

Severe Thunderstorm Warning including Branson MO, Hollister MO, Cassville MO until 7:30 PM CDT11:32 PM – 19 Jul 2018
The duck boat was reported to have capsized shortly after 7 p.m., about 30 minutes after the warning was issued.
The NTSB doesn't have the authority to order boat companies to make changes. So while some duck boat operators have retrofitted their vehicles to make them less susceptible to sinking, others have spent years ignoring recommendations and avoiding potentially safer designs such as retractable or break-away canopies, Duffy said.
"It's unconscionable," he said.
Duffy is hopeful state legislatures or the tourism industry will take action on regulating or outlawing the boats. Missouri Gov. Mike Parson seemed open to that in an interview Friday with Fox News.
"Whether they're safe or not is something we're going to determine in the future," he said. "We're going to look at all of that to make sure we protect citizens when they utilize those vehicles."
Duffy said in the meantime he was seeking to educate parents who were considering an excursion on the duck boats with their families.
"They're so appealing to kids," he said. "I don't blame any parent out there who sees a duck boat and wants to take their kids on there. They don't know about the track record of disasters and deaths."
buzzfeednews.com
Claudia Koerner is a reporter for BuzzFeed News and is based in Los Angeles.

Contact Claudia Koerner at [email protected].